This post is two weeks late. To be honest, I'm impressed its being posted at all. And I didn't mean to get so heavy with it, but it is what it is.
With that said, here's my letter:
Stella June bug.
Three is my favorite number. If I were the gambling kind, I'd always bet on three. When your dadda and I would talk babies, my daydreams were always completed with three kids; two girls and one boy.
Thinking back to the night I found out about you feels like a lifetime ago. Watching you sleep, currently thrashing and sucking your paci, I can't help but giggle. Your presence marked by those two faint lines seems far insignificant for your spirit. I remember walking out to the kitchen, straight lipped, trying to keep a poker face for your dada.
I lost. As soon as our eyes met, I grinned from ear to ear and said "Holy cow. I'm pregnant. Again."
One might think that going through pregnancy for a third time would somehow taint the excitement. It doesn't.
The first whooshes of your beautiful heartbeat are preserved in my memory as clearly as I remember your sister and brother's.
At twelve weeks, I was measuring large. The "T" (twin) word was thrown around and I was sent for an ultrasound. Instantly the tech said, "one baby!" As she swiveled the screen to point out the proof, I gasped. And from that moment on, I was yours.
At twenty weeks, dadda and I brought your big sissy Maeve along to find out if we'd be buying dresses or bow ties. It was no secret. I wanted another girl. And in some strange, motherly instinct way, I sort of already knew you were a girl. So while I cried tears of delight as the word "G-I-R-L" was typed out letter by letter onto the screen, it wasn't shocking for this mama by any means to get the official confirmation.
At 32 weeks, you, me, your brother and sister drove from Michigan to Florida in the black van. Dadda was leading the way in the U-haul. Your sissy and brodda watched movies back to back, entranced in Disney magic, which left a gap of silence and room for thinking. That drive was one of the scariest things we've been through together my girl. By the grace of God and a lot of iced tea, we made it.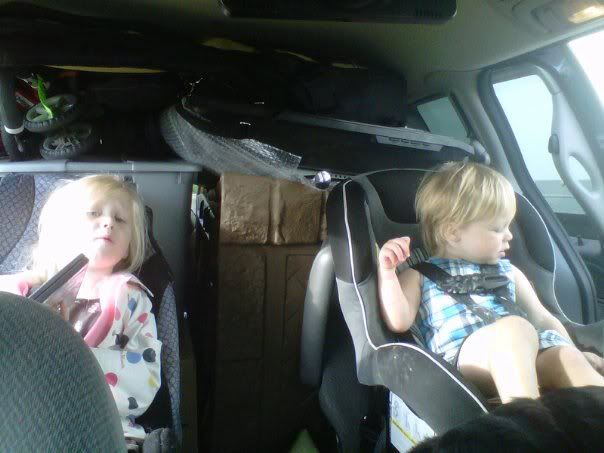 Shortly after the move, it became my mission to find an obstetrician. It took a bit of bumping around, but we eventually ended up with the sweetest midwife in the world.
The summer of 2011 was hot here in Florida. We spent most of our days at the beach; me floating belly up in a tide pool with an ice cold water in each hand. As the sun would begin to dip, I'd brave the sand and take a walk, lovingly trying to coax you out. It didn't work. But we got some good talks in. Alone on the beach, just me and you in my belly, was where I cried out my tears of fear and anxiety from the life that had just been pulled out from under our feet. I'd rub the bump of your protruding feet and pray prayers for peace and stability. And with your reassuring flips, twists and kicks, I could literally feel the hope and promise of His goodness in
all
things. Tear stained and heavy with you, I normally returned to the rest of the clan feeling lighter about our new adventure.
On the eve of August 10th I ate a darn good plate of nachos. It also stormed something fierce and again, the mama intuition kicked in.
You were coming.
We went to the hospital around 10 PM, if I am remembering correctly. And we were sent home around 11 PM. As your dadda and I took the walk of shame out to the parking lot, I reassured him we'd be back very
, very
soon.
On the way home I texted your auntie Emily, telling her to put everyone on alert. I was in labor and would be going in "for good" within the next few hours.
Daddy passed out the moment we walked through the door of our condo. I took my stack of magazines and headed for the bath.
Oh my girl. It was a long night! Again, just me and you. In and out of the bath. On and off that ridiculous "birthing" ball. Up and down the hallways. Yes, you were coming!
At 4 AM, I waved my white flag and cried for mercy... and the hospital and the medications they could provide.
By 5 AM we were on the road, your dadda driving, excitedly and asking silly questions like, "Want to stop for McDonalds?" Your auntie Em, was sitting in the back seat quiet, but giddy with your impending arrival. And you know what little biscuit? Let me just tell you, your auntie Em must really,
really
love you, because that could perhaps be the only time in her life she's seen the hour 5AM.
Around 8 AM my water broke and I was in desperate need of that glorious epidural. Thankfully I got it without any issues (unlike your sissy's birth experience).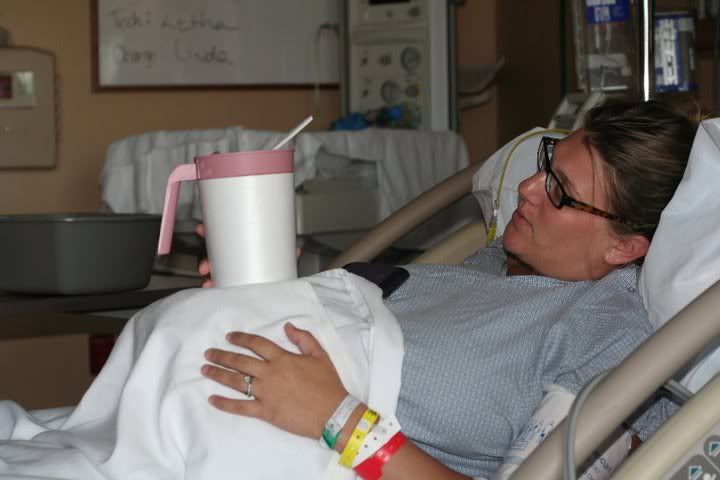 At 11 AM I told Anah, (my midwife)
I was scared to push. Both your sister and brother put mama through pushing hell and I was afraid I was in for it again. Anah checked the progress and asked if she could watch me push just once. I did. And the room sprang to life.
Carts were wheeled in, nurses were paged, Anah was suddenly dressed in full delivery gear. I was confused. "Ashley, your baby is right here. You're going to have her on your next push."
And just like that you were on my chest.
How can I find the words to describe seeing you my bug?
I like to think I'm a decent writer but I know whatever I come up with here in this next paragraph won't come close to justify the beauty of that moment.
You were here. And breathing, warm and solid on my chest. With a full head of black hair. And a pruned face. As all babies do, you reached and stretched, stiffening and squinting at the new world you just entered.
I have to be honest here; My first reaction was laughter. Pure, insane, laughter. I had just delivered my number
three
. And my goodness was it easy.
You couldn't be close enough to me. In my arms, you felt too far away. I wanted to wrap you in my hospital gown, lie with you cheek to cheek.
On our second night in the hospital, another major storm blew in. Our visitors had gone home for the night, leaving you and I alone to snuggle. The storm was intense, and actually knocked the power out, requiring funny sounding generators to keep the hospital alive. I couldn't help but smile as the nurses lugged in box fans, trying their hardest to keep us cool. I assured them we were perfectly fine, tucked away in our little room. Wait, no, we were better than fine. It was dark and quiet aside from the rain pelting the window, and I had your fresh new baby breath blowing across my chest. Yes, definitely better than fine.
And that's your beautiful birth story my girl!
This year has been a year of ups and downs (what years aren't full of ups and downs?)
You've been through a lot. Your brother and sister have never had blood work done; you've had it done six times.
You've had a chronic cough which has required countless x-rays and you've made us the owner of our very own nebulizer.
Today at your one year appointment we got another piece of crazy medical news to add to the list. And I'm feeling completely strange to be honest. I'm not upset. I'm not going nuts. I'm not worried.
I'm concerned of course. But more than anything I love you and I have faith. I have faith in our amazing God who gave you to us. I have faith in the spitfire you are.
Stellabella Junebug, my sweet biscuit.
I love you so fiercely.
You will always be my
number three.
To the moon and back,
Mama.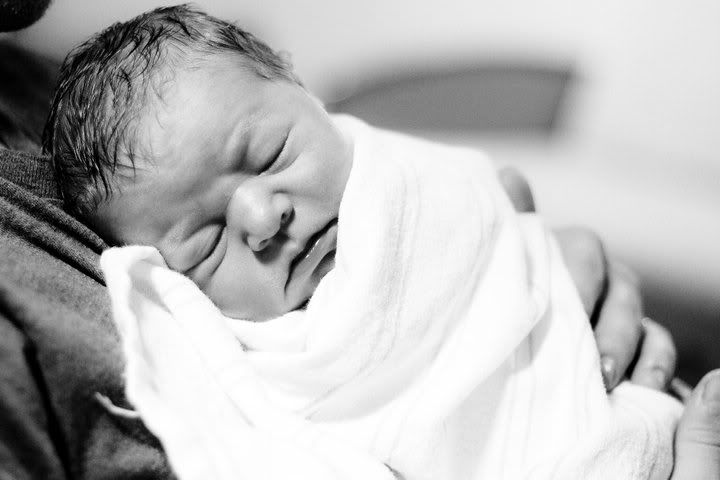 Obviously I can't end the note without explaining her appointment. Well kind of... I'm not going to say anything great about it because we really don't know much. And I want answers first. I guess the reason I mentioned it at all in this letter is I'm hoping you, my friends and family will keep our Stellbelle in your prayers.
She's okay; I promise. We're okay.
It's hard to be blindsided.
But we have an amazing girl. And an amazing God.
2 Corinthians 4:7-11
But we have this treasure in jars of clay to show that this all-surpassing power is from God and not from us. We are hard pressed on every side, but not crushed; perplexed, but not in despair; persecuted, but not abandoned; struck down, but not destroyed. We always carry around in our body the death of Jesus, so that the life of Jesus may also be revealed in our body. For we who are alive are always being given over to death for Jesus' sake, so that his life may be revealed in our mortal body.
Thanks for reading. :)
And I'd super duper appreciate it if Stell's could get prayers without questions being asked... I hope that doesn't come across the wrong way. But we're just finding our footing and want to know more. And I promise as soon as we know more, I will blog. But for now, we're fine... I
promise!