Cheese with a capital "C?"
Perhaps. But follow me for a second.
Do you ever think wild, semi-impossible, pipe dreams?
I do. I totally do.
My husband is a morning person. He conks out at 8 PM. This leaves me with loads of alone time. And it's alright; its a good thing. Ryan, sleeping next to me, occasionally bear hugging my arm (for real... its super cute, but when I'm typing, its a bit constricting), me, in the dark with my yummy fall candles burning, filling the room with heat and childhood memories of holidays. My iPhone, which is loaded with (in my opinion) the best play list ever ;) I relish in these moments of silence... and
dreaming.
I've put a lot of thought into this; why is it so much easier, natural for me to work and write or edit photos at night? And I
think
it's because at night,
anything, everything
feels possible. The light from the world outside isn't there to show your flaws or insecurities, your road blocks, the blaring headache of reality.
In the dark, with the glow of the computer screen, it's just me and endless possibilities.
What seems impossible during the day, suddenly comes to life at night.
It's funny though, as morning slaps me in the face (someday I hope to wake up peacefully, but 6 AM with 3 hyped up kids is a slap in the face kind of a wake up call) everything that was so tangible, and
there
last night has vanished. It's been replaced with, well, reality. The reality that I don't have time to walk around all day taking pictures and creating some great photo journal. And I'm pretty sure I imagined myself on the road with Taylor Swift, as her personal photographer (or cleaning lady..anything, really), hobnobbing with other celebs. Or that "thing" I've been writing for years now? Last night, I was looking at this real, written out book proposal. This morning it's a pipe dream.
So here's where the cheese with a capitol "C" comes in:
This morning we took a quick trip to the beach. It's 80 and sunny. It would be a travesty to
not
see the ocean today.
I walked alone, as I often do when its time for some serious shelling. Along the way I found some pretty sweet shells, and of course did that awesome beach combing thinking thing. It's fabulous. You don't have to look where you're going. You can literally just place one foot in front of the other, and be completely immersed in your thoughts without fear of falling or bumping into anything.
So anyways, I'm walking and it hits me; pipe dreams... dreams in general, they suck. It's like wanting the juiciest apple perched at the top of the tree; its there for the taking and within reach if you're ready to work for it. However, we (or me at least) are standing there, staring at it, drooling over it, envisioning its taste, doing nothing but watching and waiting for it to fall at our feet.
My night dreaming feels so legitimate. And somehow, within just a few hours, and the rising of the sun, it all vanishes. So at the beach this morning, I scooped up some sand (along with all the beautiful shells I found ;).
I brought it home, stuck it in a mason jar and mixed in some glitter.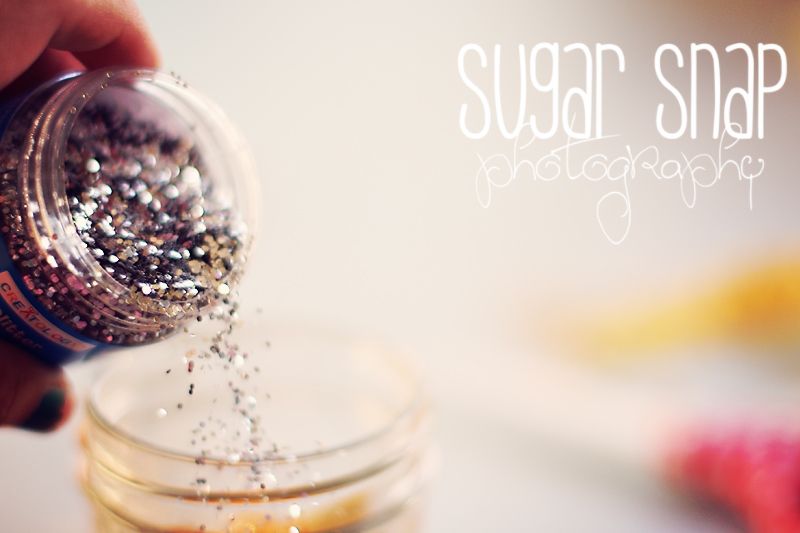 Then I wrote carefully, on folded pieces of card stock the most wildest, uninhibited dreams you could imagine, and I stuck those in there too.
Then I shook it all up.
This is my dream jar.
And it shall now take its place on my nightstand. And I intend to shake the heck out of it every.single.day.
And now friends... if you really wanted to make my day... leave me a comment; let yourself go for a minute and dream up something . Do you want to move to Montana and be a horse rancher? Dream it. Do you want to marry Taylor Lautner (Emily Ladwig...) Dream it. Do you want to sing on broadway? Dream the heck out of it.
As my favorite singer/song writer says,
"Don't let your dreams be dreams."
(Jack Johnson)
PS.... if you should leave a comment, you may, just may... find yourself with a dream jar, full of St. Augustine beach sand and glitter... ready for your own dreams to be slipped in and shaken up.
(HINT HINT... leave a dang comment)
OFFICIAL LAST DAY TO LEAVE A COMMENT TO BE ELIGIBILE FOR A DREAM JAR: NOVEMBER 13th by 8:00 PM!
And last but not least: Day 11: Today I am thankful that I live in a country where I can dream. Thank you veterans!! Thank you doesn't feel significant enough, but still... a sincere and humble thank you for what you've done. You've given us the freedom to live and dream. :)
EVERYONE HAVE A FAB DAY! :D